Today is my wedding Anniversary. My late wife Sunanda Gandhi continues to be a part of us as she lives in my heart and in our hearts.
From Gandhi Worldwide –
Sunanda Gandhi (1932–2007) was an author, researcher, nurse and, along with her husband Arun Gandhi, co-founder of the M. K. Gandhi Institute for Nonviolence presently located at University of Rochester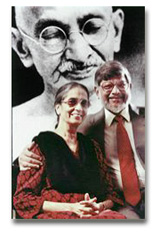 Prior, Sunanda and Arun, along with friends, organized India's Center for Social Unity which developed self-help, economic models for India's rural poor, assisting in breaking the cycle of poverty and keeping children at home and in school.
Between 1985 and 1987, Sunanda helped edit The Suburban Echo, a news weekly from Bombay.
Sunanda met Arun Gandhi while he was in the hospital. As a young nurse, Sunanda cared for Arun after surgery in India; a romance bloomed and their shared domestic life and work in nonviolence began.
Sunanda Gandhi's family were advocates of British rule and opposed to Gandhi, so the couple had many obstacles to overcome.
For over twenty-five years, Sunanda engaged in extensive, productive and compassionate work with orphaned children, prisoners and victims of domestic violence as a marriage counselor for Bapnu Ghar, an organization for destitute and abused women.
Sunanda gandhi co-authored The Forgotten Woman, the only biography of Kasturba Gandhi, wife of Mahatma Gandhi.
Sunanda Gandhi also served as senior researcher at the MK Gandhi Institute, which together with her husband Arun, she founded at Christian Brothers University in 1991 in Memphis.
Journalist Michael Saba writes –
I first met Arun and Sunanda Gandhi in Memphis, Tennessee at Christian Brothers University where their peace institute was first established in 1991. They were introduced to me by a common friend, Dr. Donald Wagner, the founder of the Palestine Human Rights Campaign.
I asked Sununda, a very calm and serene person, if she ever got angry. She said that the last time she showed anger was over 50 years prior to our conversation. She said that Arun was courting her in Bombay and they got on a small bus together. There was no room for them to sit together and she had to sit between two men across from Arun. Apparently, these two men had had a bit to drink and got fresh with Sununda. They started to tease her and say inappropriate things to her. She said that she looked to Arun to defend her honor and he sat there and said nothing.
After they left the bus, she angrily told Arun that he should have defended her honor against these two men. She felt that, as her suitor, he had a responsibility to do so.
She said that he then asked her if they touched her or physically hurt her and she said no.He then told her that she also had to learn to vent her potential negative emotions and thoughts into positive ones.
That was the last time that Sunanda Gandhi was ever to vent anger.
Tushar Gandhi: "Life is strange when she was there I seldom remembered, now when she has gone I don't forget. Happy Birthday Ma!"
Archana (Gandhi) Prasad: "On this 10th day of the 10th month in the 10th year of this new millennium a 'VERY HAPPY BIRTHDAY' to you Ma – who was always our perfect '10'."